Secret Marriage Proposal in Rome: Tips for an Unforgettable Moment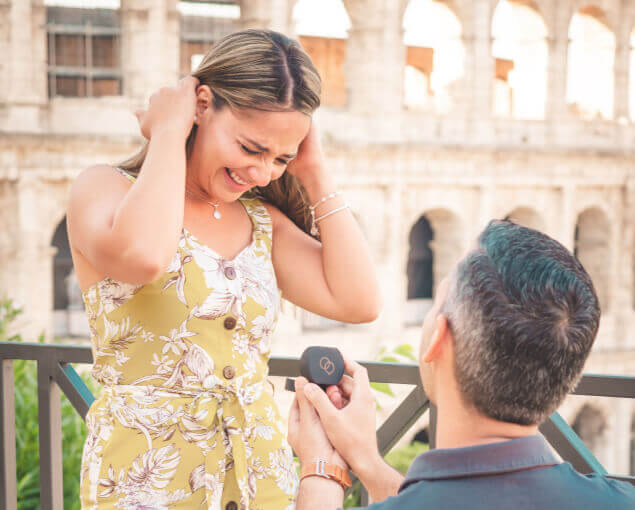 Rome, with its timeless beauty, provides the perfect City for your dream marriage proposal. Planning a secret proposal requires attention to detail and a touch of magic, and our professional Photoshoots are here to help you make it happen. Here's a detailed guide to planning your perfect proposal in Rome.
Step 1: Planning Details with the Photographer
Collaborating with your photographer is key. He or she will help you choose the ideal location and the best time for the proposal, considering your personal preferences and natural light for the photographs. Whether you prefer the grandeur of the Colosseum or the intimacy of a hidden corner in the Villa Borghese Gardens, your photographer will guide you in choosing the perfect spot.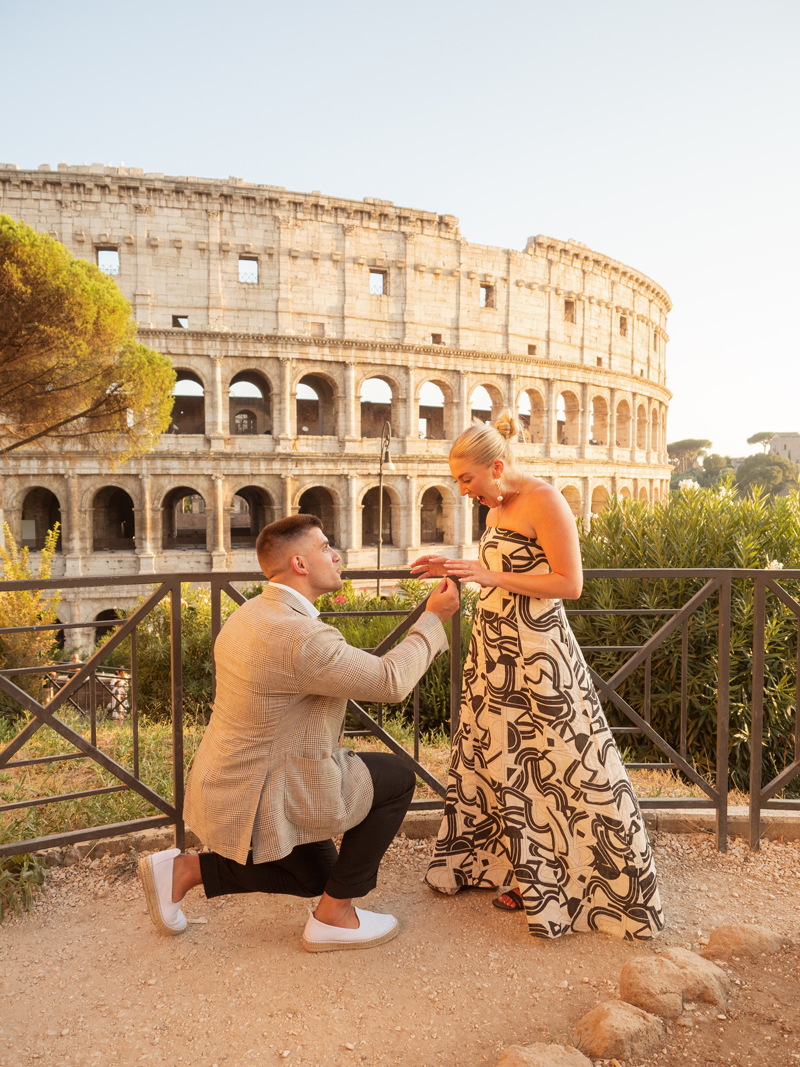 Step 2: Choosing the Type of Proposal
Decide whether you want to carry out the proposal during the photo session or if you prefer a "secret" proposal with the photographer capturing the moment from a hidden spot. Both options have their unique charm and will depend on your preferences and the personality of your beloved.
Proposal During the Photo Shoot: imagine strolling through the streets of Rome, thinking you're just part of a regular photo session. Suddenly, it turns into the most memorable moment of your life. With our photo shoot proposal option, we set up what seems like a casual photo session. As you enjoy the city's historic sites like the Colosseum, Trevi Fountain, or Villa Borghese Gardens, our professional photographer discreetly captures the exact moment of your proposal and every emotion and surprise is forever immortalized.
Hidden Photographer to Capture the Moment: For those who prefer an even more discreet approach, we offer a "hidden" photo shoot. The photographer will be at the location, staying concealed until the pivotal moment. After secretly witnessing and capturing your proposal, the photographer reveals to continue the photo session, celebrating with an exciting post-proposal shoot at some of Rome's most beautiful locations.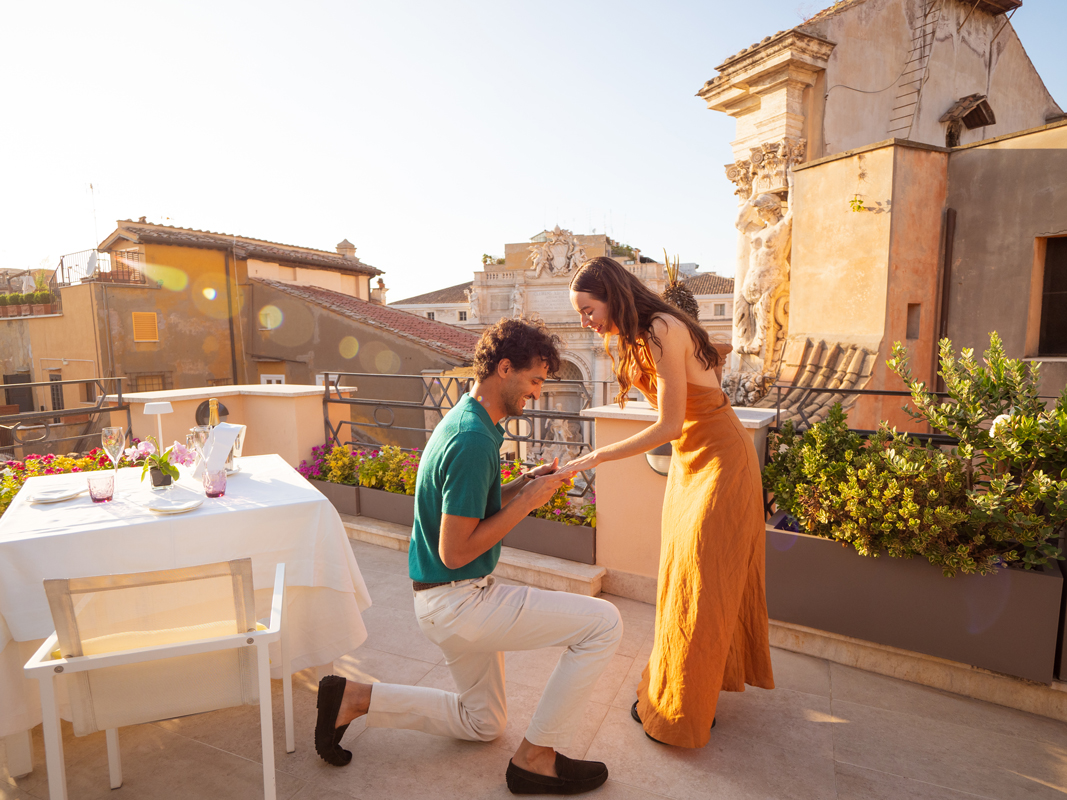 Step 3: Hiding the Ring
To maintain the surprise, it's essential to hide the ring well. You can opt for a smaller box that easily fits into a pocket or carry it in a backpack. Make sure it's easily accessible at the crucial moment.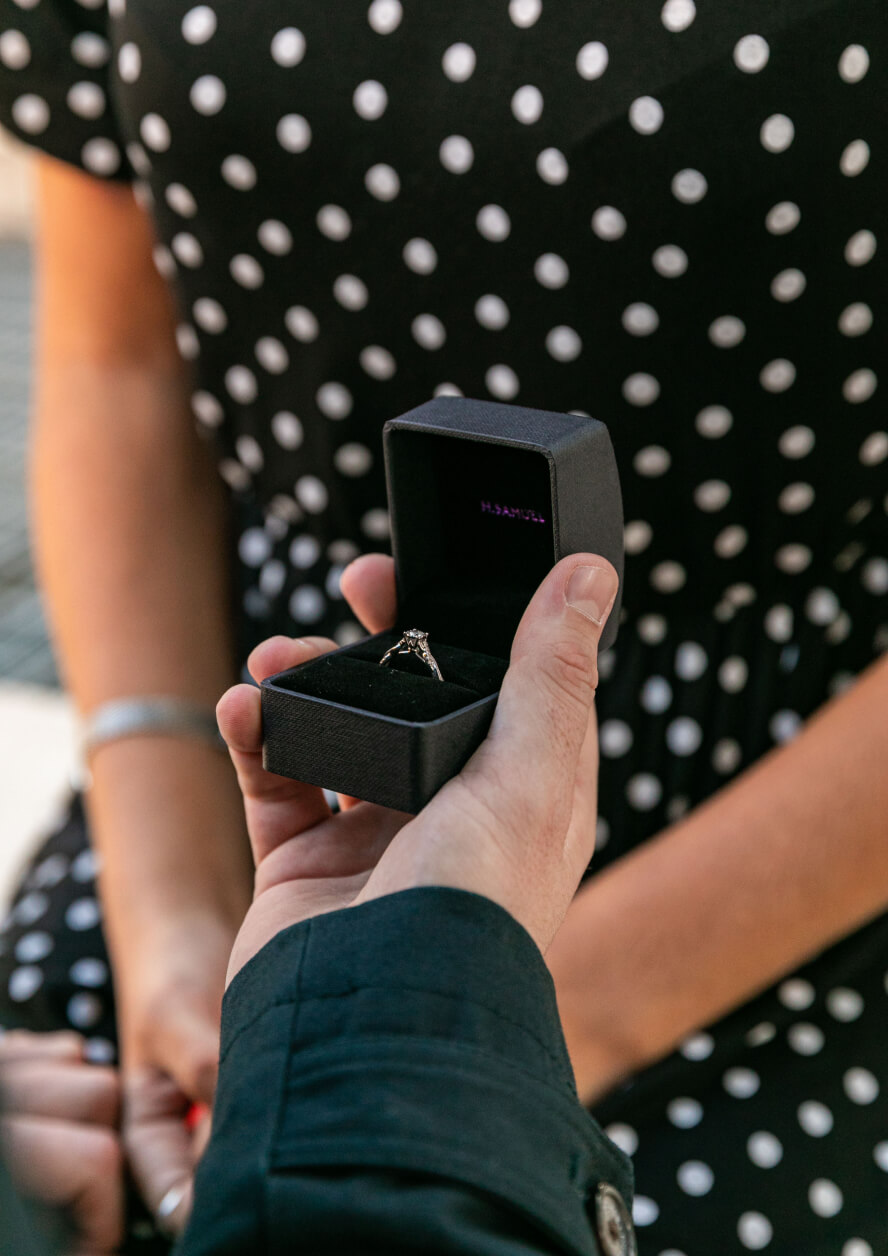 Step 4: Establishing a Signal
Agree on a discreet signal with your photographer in advance. This signal will allow you to communicate the exact moment when you are ready to propose, ensuring that the photographer is ready to capture the moment without missing any details. For example, you could ask your partner to take a photo with their phone turned towards a scenic view. When they turn around, it will be the perfect time for you to make your proposal. This natural action provides the photographer with a clear signal to prepare for the crucial moment while keeping the surprise intact. Alternatively, you could use a simple gesture such as adjusting your tie or touching your hair as the signal. This subtle movement is easy for the photographer to spot and will not arouse any suspicion, ensuring that the proposal remains a complete surprise.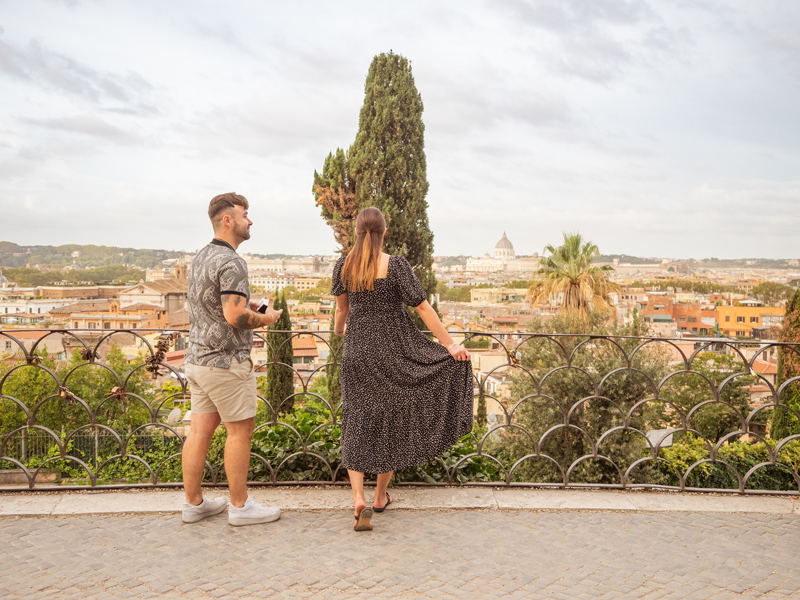 Step 5: Be Patient and take your time
On the day of the proposal, remember to keep calm. Take deep breaths and don't rush the moment. Take your time, get down on one knee, and stay in pose for a few minutes after popping the question. This will give the photographer the opportunity to capture a variety of expressions and your partner's natural reaction.
Don't forget to plan the Perfect Timing
In planning your unforgettable secret proposal in Rome, timing is crucial. To avoid crowds and ensure a more intimate moment, consider proposing early in the morning or schedule your photo session during the golden hour before sunset for a romantic ambiance. Our guide highlights the importance of choosing the right time and setting for a picture-perfect engagement in the magical streets of the Eternal City.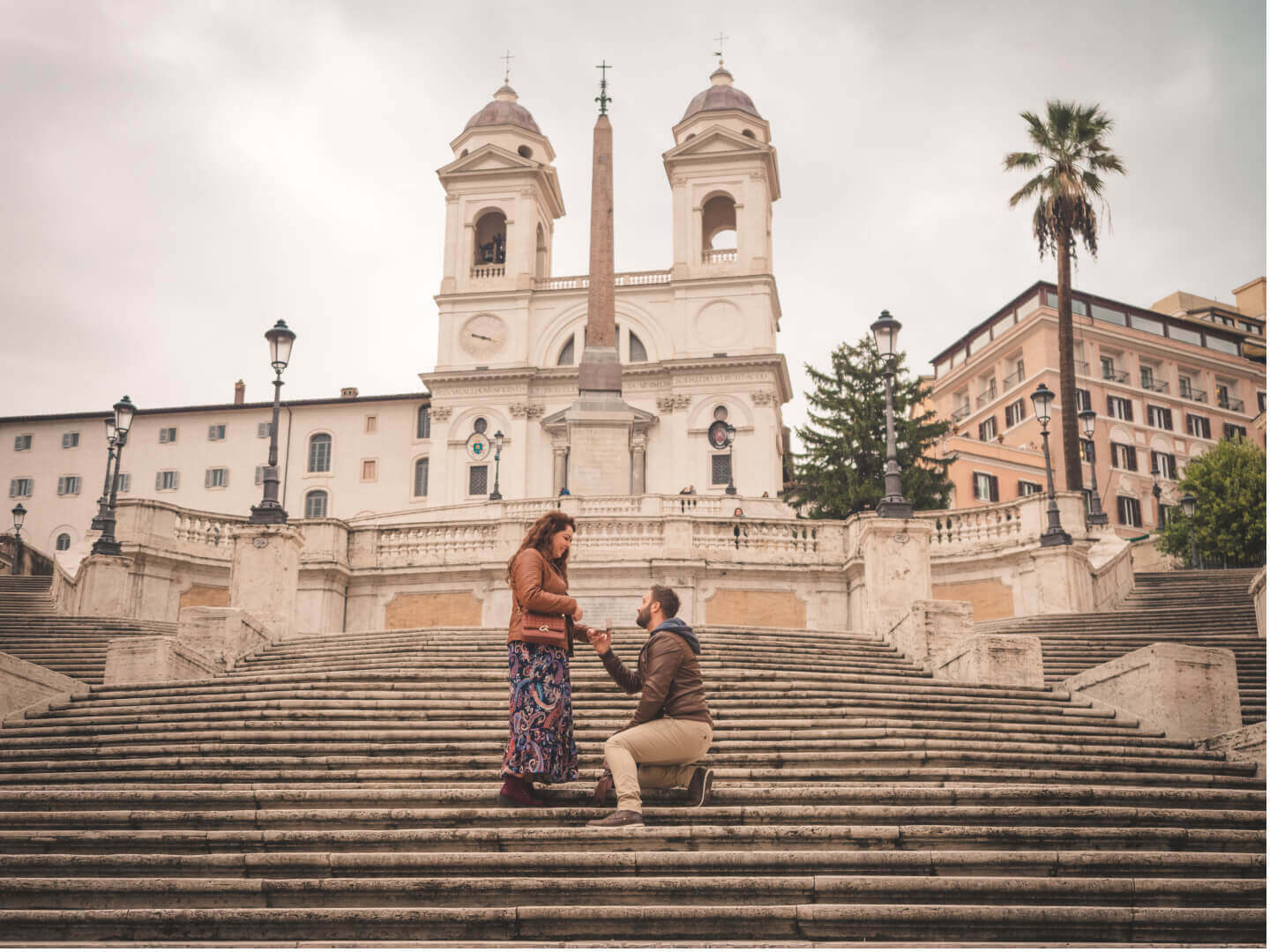 Conclusion
A marriage proposal in Rome is a life-changing event. By following these steps and with the support of your professional photographer, you can be sure that every moment will be captured in its authenticity and beauty.
Contact us to start planning your perfect marriage proposal in the Eternal City!
You might be interested in
make your travel unique
Professional Photographers in Rome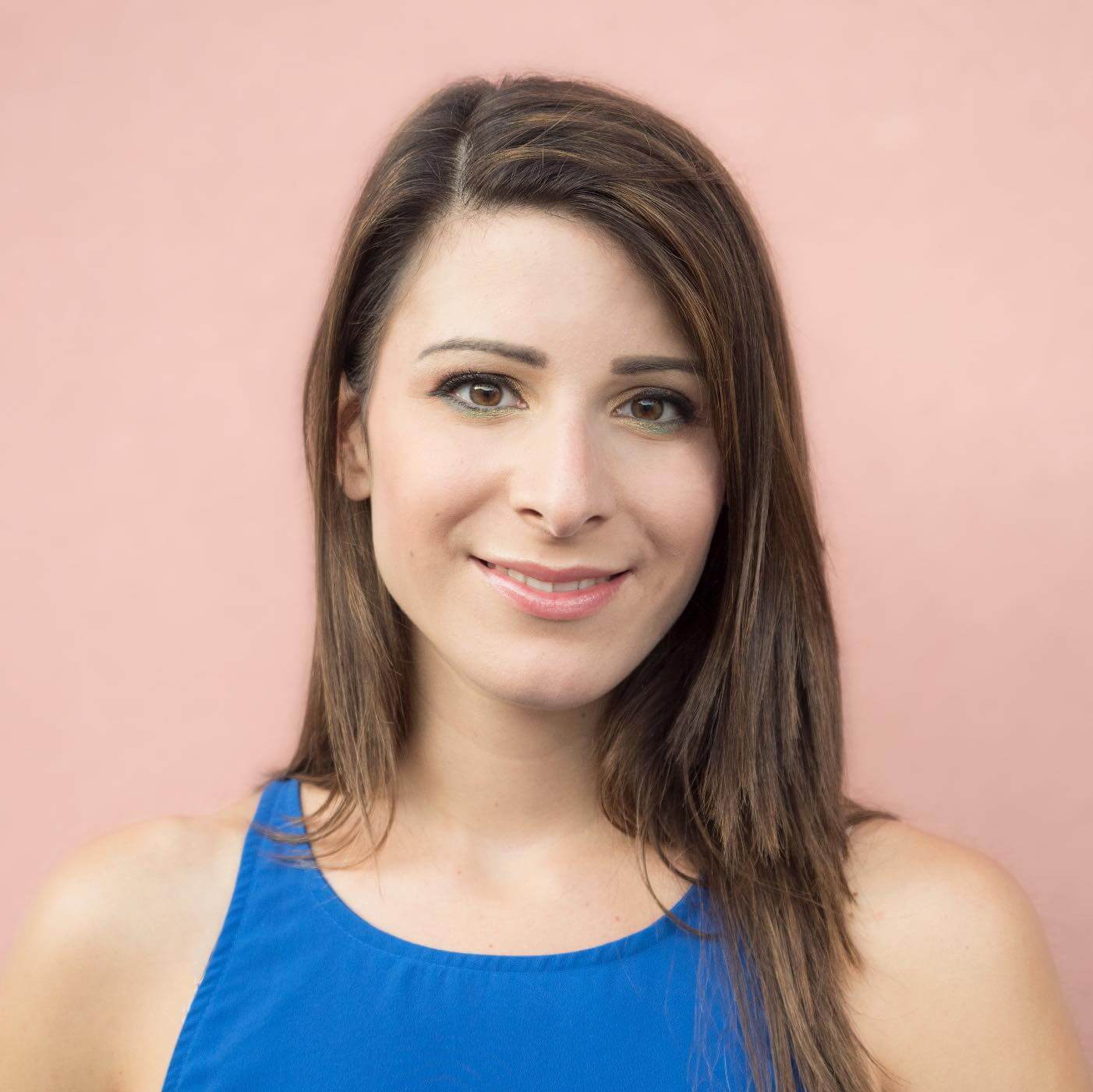 Maria
Hello! I'm Maria and I'm a professional Photographer since 2016. I have been working several years with people from all around the world.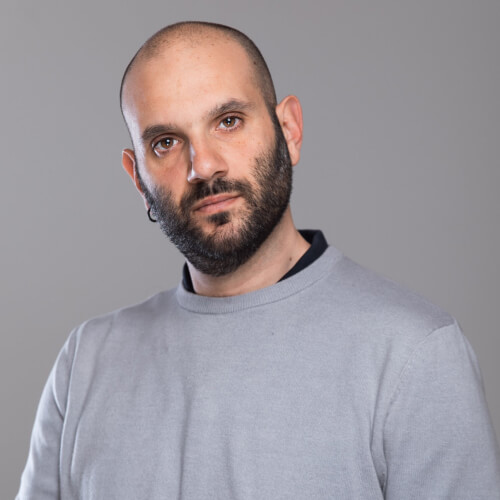 Daniele
I've been shooting for years since I was a little boy. Some years ago I decided to do it as my main job and the dream came true! Even if I was born in Naples, I'm totally in love with Rome. I've been living here for 12 years now… That's why this beautiful city has become my new 'home sweet home'. I love walking around this magical city and with my pictures you will have eternal memories about your precious Italian days ❤️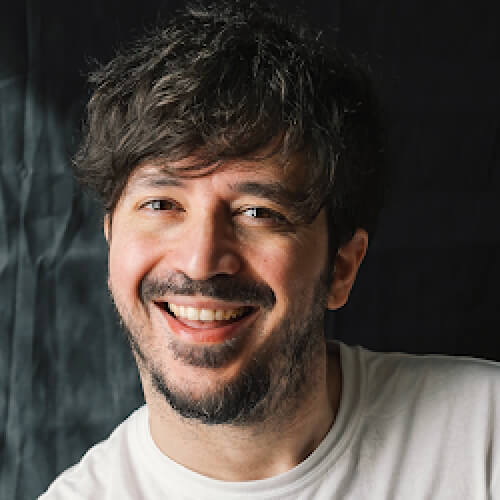 Sal
I'm Sal. I'm sicilian but also a world citizen. I lived in New York City and Paris and now I live in one of the most beautiful cities in the world: Rome. I am a full time photographer, videomaker and dog dad. In my spare time I write, read, draw, drink wine and kill all the plants in my apartment.
Make your experience unforgettable
WITH A PERSONALIZED EXTRA SERVICES
Testimonials
What people think about photoshoots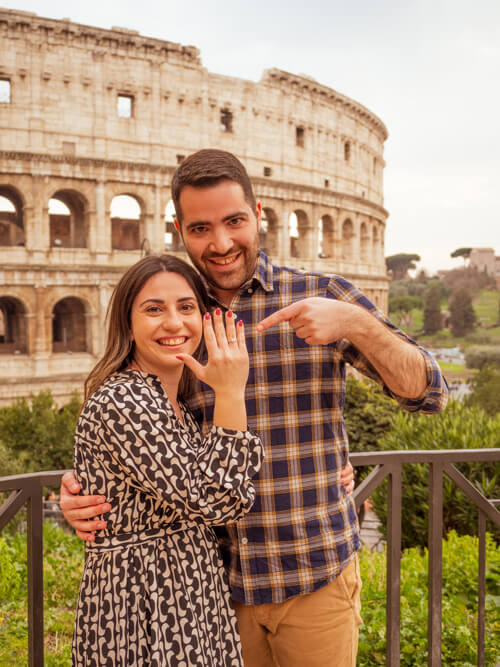 Savvas
It was an amazing experience and we had great time! Everything was great, the secret proposal went as planned and it was well organised! We totally recommend it for anyone who want to make special memories in Rome! Maria, is an excellent photographer, very professional and very friendly! Thank you for capturing this unique moment for us! We really appreciate it!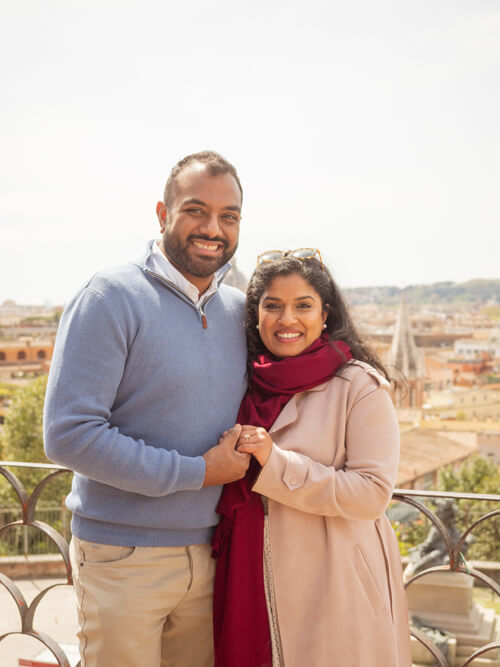 Shak hirani
Maria is fantastic. She was so responsive with all of my queries and helped to organise the day so it ran smoothly and like clockwork. She understood the pictures we wanted and captured so much. Her recommendations were also fantastic! Thank you so nuch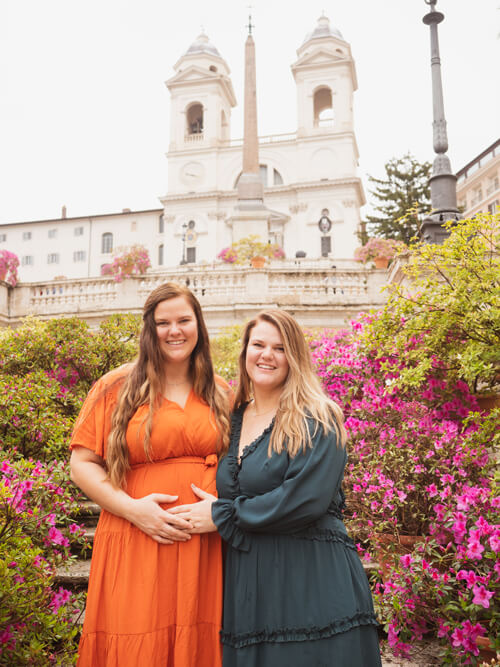 Katie
Maria was amazing through the entire process. She was early to our shoot, was able to squeeze in two locations, and even stood in the rain. The pictures were absolutely beautiful and she made us feel so comfortable. I would absolutely recommend her to anyone wanting to take amazing photos in Rome!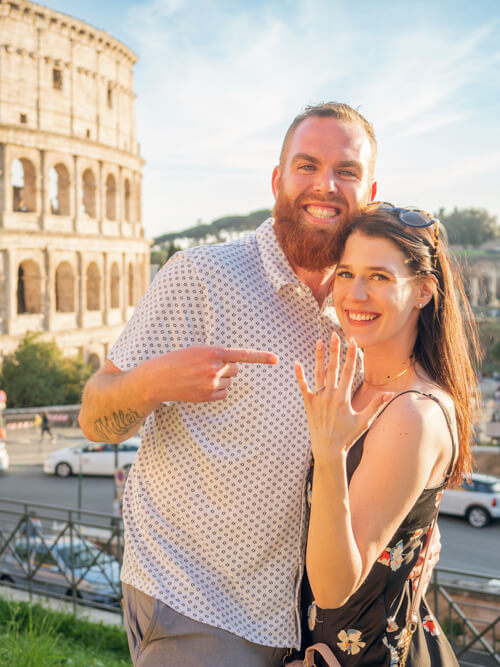 Brandon
It went better than expected, Maria was already waiting at our agreed upon spot and captured the very especially moment.
She provided great recommendations for dinner afterwords and it was a blast working with her. She is very knowledgeable about where the best shots would be taken, very inviting and personable and when we 100% recommend booking with her!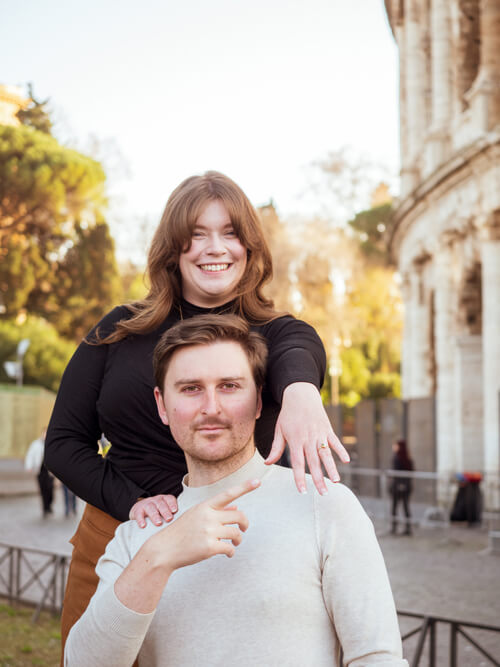 Belinda
I was hoping and praying for a great experience, and I'm not really sure what I expected, but whatever that was Maria surpassed! She was amazing guiding us and making us both feel comfortable as we were both so nervous to begin with. She asked us a lot of questions and personalised the shoot to what we were after 5/5 stars!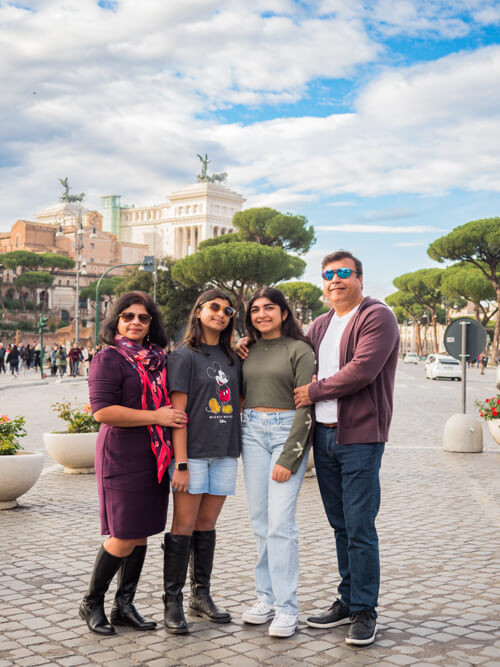 Vidhu
I would rate Photoshootrome services as A++ Maria you made getting the pictures clicked so fun. You are so easy to work with and appreciate you giving us more than our contracted time with you. All our friends and family loved our Rome pictures. We have made a lifelong friend in you and I would highly recommend your services to anyone traveling to Italy from our side of the world. Best Wishes. Vid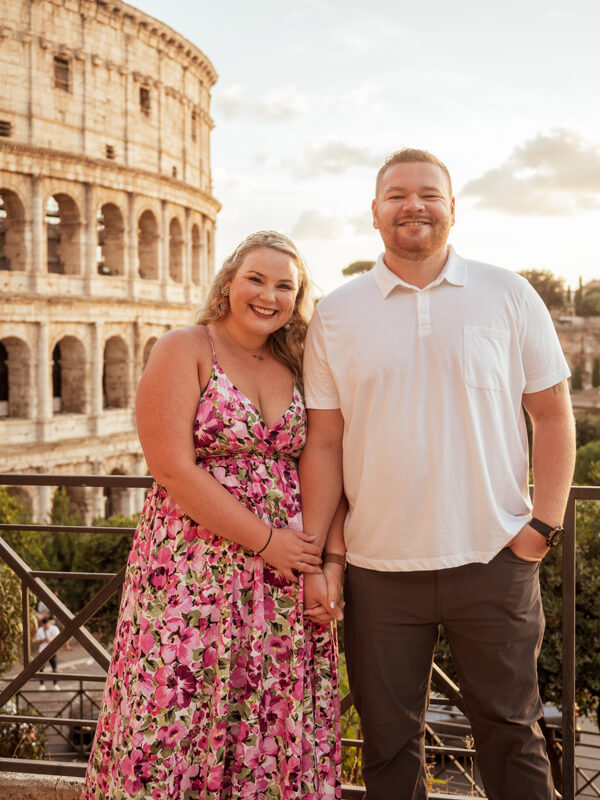 Maggi
Happy to review working with Maria was one of our FAVORITE parts of our journey to Rome. Not to mention, she was able to capture memories we will look back on forever. I cannot stop raving about how great she was – from her energy, excitement, and especially her work. She is professional, clear in her communications and fun to shoot with. We received our photos within a few days of our photoshoot and they were easy to download from there. I HIGHLY recommend working with Maria – you won't regret it!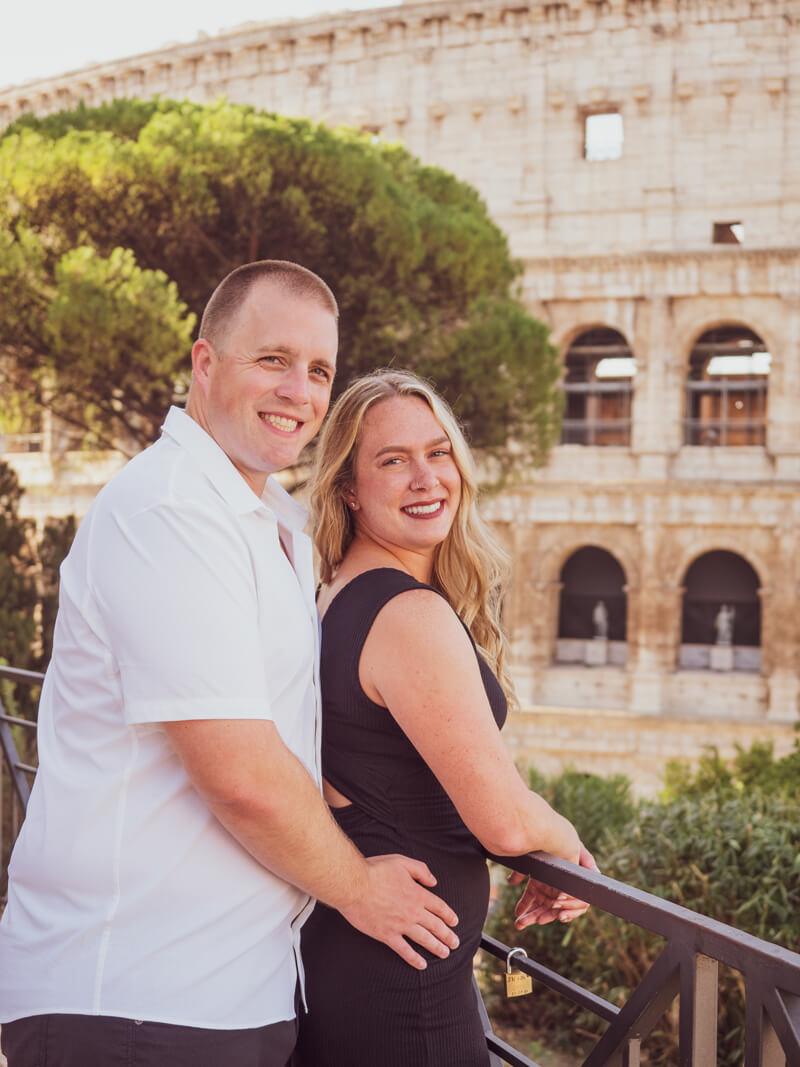 Taylor
My husband and I had a GREAT time with Maria. She is so sweet and eager to make suggestions for cute photos. She got photos back to us that look amazing, and she did it SO quickly! If/when I come back to Italy, I would absolutely book with her again! She's also very responsive and communicative 🙂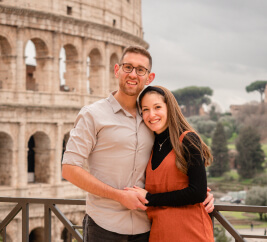 Ariel K.
Me and my husband booked a photoshoot for our honeymoon in Rome. Our Photos are all amazing and beautiful!!!! Maria is so talented ❤️
We booked 1 hour photoshoot and we are so happy with results.
I can't wait to recommend her to al my friends who are traveling 🙂
thank you so much Maria!!!!
Get Inspired by locations
Each place is different and unique and it can be the perfect backdrop for your photo shoot. Discover the beautiful places of Rome and get inspired
Frequently Asked Questions
EXPERT PHOTO EDITING
All photos are edited for light, color, and sharpness to make your photos awesome.

QUICK DELIVERY
Receive your photos within 5 days of your photoshoot, but you can select express delivery to receive them in 48h!

LOCAL TIPS
Your personal photographer tell you all the best photo spots and local secrets for what to see, eat, & do in town.

HIGH RESOLUTION PHOTOS
All the photos are in high resolution quality and ready to be printed
After your photoshoot, you will receive your best photos (they are acquired selected by the photographer) through a private link sent to your email. This link directs you to a gallery site where you can browse and select your favorite photos. Please note that each link is active for a period of 2 months from the date of the photoshoot. After this period, the link will expire, so make sure to download your chosen photos before then.
If you need to cancel for any reason, please email or call us and we will refund 100% of your booking fee as long as you provide us no less than 7 days' notice prior to your scheduled shoot date.

Within 7 days, once the shoot date and time are confirmed you may ask for a 50% refund; we will retain the 50% balance for processing and handling fees.

Within 24h of the shoot date and time, all sales are final and there is no refund for cancelled shoots. Please visit our Terms & Conditions for complete details regarding our cancellation policy.

All sessions can be rescheduled due to bad weather conditions or other unforseens. In this case if it will not possible to reschedule you will receive a total refund

Photoshootrome.com is not responsible for and will not reimburse any additional fees charged to the client by his/her bank/card provider or paypal for receiving above specified refund.
Usually, yes, but sometimes photographers have booked the rest of their day around the location you've already chosen so it may not be possible. We will always try our best to accommodate you. You should advice at least 7 days before the photoshoot.
Please text or email your photographer if you are delayed. If you arrive late, keep in mind your photographer may have another shoot booked right after, and it's unlikely your shoot can be extended. We suggest arriving at least 15 mins early. Remember: traffic in big cities can be unpredictable.

If you arrive late for your session, any time that has passed from your original start time will be forfeited, and you may shoot for the remainder of the time you have booked.
If you want to keep going, and your photographer is free, you can pay the additional charge.
The photographer captures a large number of photos in RAW format, which are then meticulously selected and processed for quality. In the gallery, you will find more photos than those included in your initial package. These additional photos are available for purchase directly on the gallery website. You have the option to buy any of these extra shots if you find more images that you love or the entire gallery. 
You can certainly gift a photoshoot to your friends or relatives. To do this, please visit our "Gift" page where you can book the photoshoot. Here, you'll be able to choose the type of photoshoot you want to gift. It's a thoughtful and unique present that your friends or relatives are sure to appreciate. Just follow the instructions on the "Gift" page to make your purchase and arrange the details of this special gift.
Contact a photographer
We always aim to reply within 24 hours.